Please scroll down for photohunters and SOOC
I meant to post this last week, but time ran away with me.
I still struggle to juggle, hence 'comment of the week award.'
Sad to say that Ricky has had to go as he was crashing everyone's computer. [some kind of bug] Hence this rather dull replacement. I shall try and spend some time removing Ricky's bugs from all my sites. Humble Apologies

[Inspired by "Scribbit."]
This week it goes to "Jade" from "The Mixed up Thoughts of a Jaded soul" for her comment [on the old blog = when will she ever learn!] on the "Photo Friday" post which for some reason best known to someone that I do not know, accidentally became posted on Wednesday! Oopsie.
She says that the baby-rattle-whistle:-
'It could also be used as a spouse repellent! LOL blow it and shake it enough and they'll keep their distance! hehehe'
and somehow that just tickled my funny bone!
Poor spouse!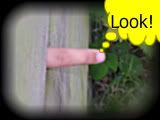 Meanwhile, you could always nip along to "Trixie" on her post "here" to make her feel truly ancient. Just say something in the comments box to the effect of 'many happy returns of the day oh ancient one,' she'll never know it was you.
Go on, you'd be doing her a favour, or possibly me?
404