The oh so very delightfully charming "Lis Garrett" from "Root and Sprout" is hosting a giveaway today.
Can that possibly be one word?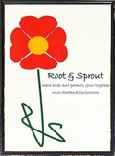 Click on the flower to whizz you right there
OR
Get the code:-
Cut and paste
from this little
boxy thing below

Similarly charmingly and delightfully, "Debbie" from "Three Weddings" is also hosting a give …….away……sorry I just can't put those two words together again.
Debbie's
Click on one of the brides to whizz you right there
OR
Get the code:-
Cut and paste
from this little
boxy thing below

As a result, these two thoroughly reprobate bloggers have double dared me to do likewise. Up until now, I have never given anything away if I could possibly help it, and I'm quite certain that there will be a whole host of pitfalls that I'm about to plop into.
Since I am allergic to visiting the post office I need to find something light that I can just pop in an envelope. I'm tempted to choose something 'gently used' but just about everything around here is already pummeled to a pulp.
Ideally it should be something that nobody wants which means that no-one will enter which means I won't have to worry about unforeseen abysses for the unwary.
It also ought to be something that might be a good match for a juniorish sort of a person. Since I am a betting woman by nature, I think it best to offer one of these,
then there is a 50-50 chance that it might be a good fit. I can't send you mine because it's a bit manky and mangled. I can't send you the one that I already gave away, so I need to get busy with the sewing machine………right now…….. and find my googley eyes.
Maybe I need to construct a "user manual"?
So don't forget to nip along and say 'hi de ho' to "Lis Garrett" and "Debbie"
Mine will be an open offer until the last day of January and then we'll attempt a random choice.
That should prove to be a challenge in itself!
So please join in and pass the word along.
Cheers dears
p.s. Dang I knew I'd get it wrong. Here's a bit I should have included. Save me from steep learning curves!
This contest is being held to ring in the New Year AND to bring awareness to Root & Sprout. The January edition of Root & Sprout is now live with new articles, people to meet and giveaways.
3 Ways to Enter: (Choose any or all)
Visit

Root & Sprout

's January 2009 issue and leave a comment here about your favorite article or giveaway (don't forget to enter to win and Root & Sprout for the giveaway!)

Host your own Giveaway linking to

Root & Sprout

and ask your readers to comment about their favorite article or giveaway. Don't forget to leave link on Mr. Linky and a comment about your giveaway here.

Grab the Root & Sprout button ABOVE! for your blog and write a post about this giveaway. Don't forget to leave a comment here.
Be sure to include your name and email address in your comment(s).
Their contest closes on Friday, January 9, 2009. The winner will be chosen by Random.org on Saturday, January 10, 2009 and announced on Monday, January 12, 2009.
I'm sticking to the end of January for mine.
Should I use Random.org too?
E Gad this was a mistake.
In a final note, please include "Barbara" from "The Extras" on her unique "give aways," in her post entitled "Bridges."
And finally final, spend a mo dawdling with "Trish" at "Another Piece of the Puzzle" who also has a spiffing give away over at her "site" someone who is quite possibly the busiest and most productive blogger around as you can guess from her thoroughly impressive "summary" post here over at "5 Minutes for Special Needs Mums."
404