This is quite a coup for the tactile defensive amongst us, to say nothing of the fine motor skills and the good old indefinable 'motivation.'
I'm told that you can buy them "here" at S&S Worldwide, although I couldn't spot them myself, or at "Oriental Trading" on "this page."
I have spent a fortune at that shop over the years. I used to be annoyed that everything came in multiples, however as whatever it was used annoy my boys intensely, it usually took several or many tries before we were even in with a chance.
In this particular instance I have his Occupational Therapist to thank. Now there's a woman with spectacular powers of persuasion!
And if you have a free mo, try out this test or better still persuade your small people to try it out. You can't be too careful.

Test Your Eye Color Blindness Test – Click here for more blooper videos
Or you can check it out over here on "Metacafe" which I accidentally read as 'metcalf' but sadly I've not come across a similar dyslexia test!
Hosted by "Tracy" at "Mother May I," but the photo-picture below will whizz you right there with one click.
Just call me snap happy.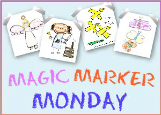 And this Animoto feature, was pinched from "Susan" at "5 Minutes." Thank you!

404